Heavy Duty Towing Surrey
Mundie's Towing is proud to offer services to the city of Surrey. As one of BC's largest, family-owned towing companies, we've been assisting the people of Surrey since the '70s. Our well-equipped, heavy-duty fleet can handle any job, no matter how big. As an industry leader in the community, it's important that our tools and trucks are always the best in the business. That's why we regularly upgrade our fleet to make sure we have the people of Surrey covered. At Mundie's, we can tow any Surrey heavy-duty equipment. In a city as busy as Surrey, it's important to have your first call be the right one. By calling Mundie's, you'll receive fast and efficient service, to have you back on the road in no time. Safety is our top priority, that's why we offer 24-hour emergency tow and recovery services to the city of Surrey. No matter the time or place, Mundie's will be by your side to assist. For all your Surrey towing needs, our team of experienced and highly skilled drivers are ready to help.
---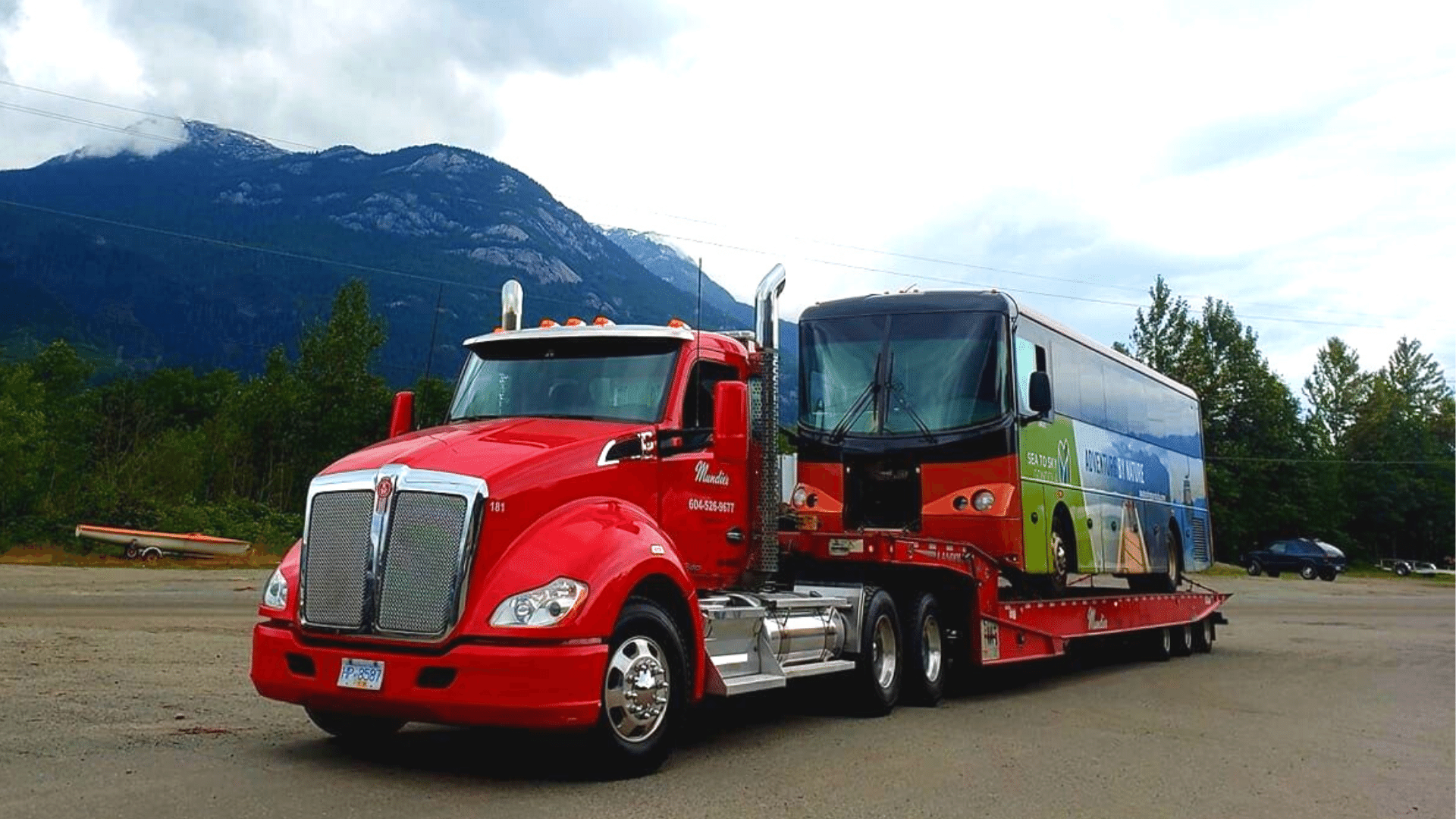 ---
Towing Services in Surrey
If your truck is in need of a tow in Surrey, Mundie's has you covered. With our short wait times and affordable rates, our fleet of high-quality tow trucks can get any heavy-duty vehicle out of a tight spot. Whether it be a large RV or a heavy-duty truck and trailer, Mundie's team of experienced drivers can be by your side to get you back on the road safely and efficiently. Mundie's can assist with local transport, heavy-duty equipment transportation, accident towing, and much more. If it has wheels, we can move it. If you're stuck on the side of the road in need of a tow, our 24/7 emergency services are here to help any time of the day or night. If your large, heavy-duty truck is in need of a boost, unlock services, a tire change, or any type of towing, there's no job too big or small for Mundie's. We're proud to assist the city of Surrey, and for over 40 years, we've equipped the best fleet of trucks and top-of-the-line tools to make sure we're offering the best services in the city. For any type of towing in Surrey BC, call Mundie's Towing.
Our team has you covered and can assist with the following heavy-duty towing services:
Accident Towing & Recovery
Heavy Duty Towing & Recovery
RV Towing
Equipment Transportation
Flatbed Towing
Local Towing
Long-Distance Towing
Fast & Safe Roadside Assistance
---
Stuck on the side of the road in Surrey with a large truck that won't start? Our 24/7 roadside assistance will have you back on the road safely and quickly. Having your vehicle breakdown is a stressful and hazardous experience, that's why Mundie's prioritizes your safety and well-being above all else. At Mundie's, we will do everything we can to enable your vehicle to proceed under its own power. We have the most up-to-date tools and equipment to help with any roadside troubles. Whether you're in need of a tire change, a battery boost, or a fuel top-up, an experienced Mundie's driver can be by your side to assist. As a proud and seasoned towing company of Surrey BC, we know how busy the city streets can get. To prioritize your safety, and the safety of others, Mundie's can assist with getting your heavy-duty truck or trailer off the side of the road and back en route. Some of our most common cases of roadside assistance are:
24-Hour Emergency Towing & Recovery
Fuel Top-Up
Unlock Services
Battery Boosts
Tire Changes
Surrey Mundie's Towing Got You Covered
If you're in the Surrey or Lower Mainland area, you have a service near you with Mundie's Towing. Our fleet of dependable trucks and experienced tow truck drivers cover all areas of Surrey. With our quick and affordable towing services, we're proud to assist our Surrey customers with their large, heavy-duty trucks. So, if you are in the Lower Mainland and are in need of a tow or roadside assistance, Mundie's Towing can help.
As Surrey's top towing company, we cover neighborhoods such as:
• South Surrey
• Cloverdale
• Guildford
• Whalley
• Grandview Heights
• Newton
• Ocean Park
• East Clayton
• Port Kells
• Sunnyside
• Bridgeview
• West Newton-Highway 10
• East Newtown North
• Anniedale-Tynehead
• South Westminster
• Panorama Ridge
• North Grandview Heights
• Clayton
• Morgan Heights
• Mud Bay
• Rosemary Heights Central
• Rosemary Heights West
• Crescent Beach
• Johnson Heights
• North Cloverdale East
• Willoughby
• Bridgeview
---
Mundie's Towing & Recovery Surrey